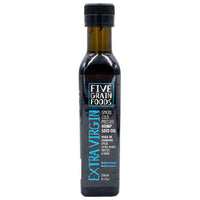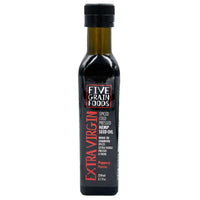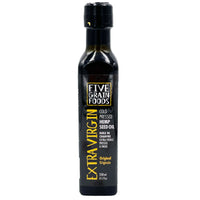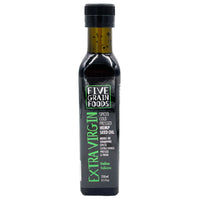 Five Grain Foods - Extra Virgin Cold Pressed Hemp Seed Oil (250ml)
High-quality Five Grain Foods hempseed oil is cold-pressed from Hempseed grown in the pristine Prairie. No chemicals or heat was used to produce this extra virgin, delicious culinary oil.
This process ensures vibrant flavours, aroma, and nutrition. Any food you add hempseed oil is invigorated by its natural earthiness and richness.  Extra virgin hempseed oil retains the most antioxidants. It offers the most excellent health benefits to you.
 Hemp oil is delicious on salads, bread, pasta, rice and drizzled on fresh, steamed or roasted veggies. Add it to smoothies for a rich and smooth blend. It has a rich nutty taste that complements and adds depth of flavour to many dishes.
Some cultures use hempseed oil therapeutically. Hempseed oil has an ideal ratio of omega 3, 6, 9; Five Grain Foods hempseed oil is an excellent source of the super anti-inflammatory GLA, gamma-linolenic acid.
Our hempseed oil is a true superfood! We offer Five Grain Foods hempseed oil with added benefits and flavour of organically grown spices. It is available in: 
Italian: garlic, oregano and basil.
Peppery: black pepper, red bell pepper.
Mediterranean: a zesty mixture of garlic, chilly pepper, rosemary, oregano and chipotle oil.
Original: Nothing but pure unadulterated hempseed oil.