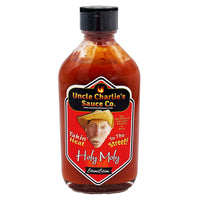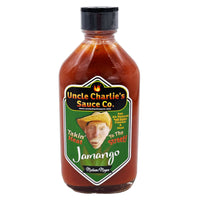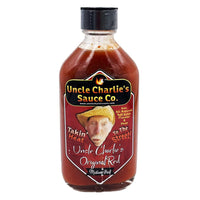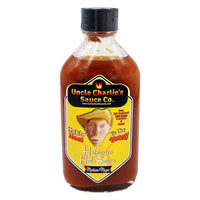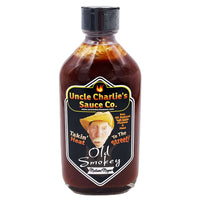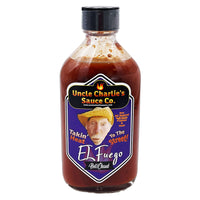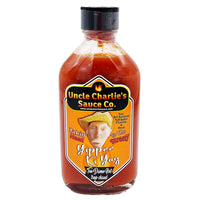 Uncle Charlie's Sauce Co. - Hot Sauces
DESCRIPTION 
Mild Sauce:
Jamango – considered to be a "Caribbean Ketchup" and is full of Vitamin A and Vitamin C. The main ingredients include scotch bonnets and mangoes.
Medium Sauce:
Original Red – referred to as a perfect medium. It is comprised of cayenne peppers, serrano peppers, garlic, and other assorted spices.
Old Smokey – Add that little extra deliciousness to anything with this sauce. Ingredients include: chipotle peppers, garlic, and assorted spices.
 Hot Sauce:
El Fuego – For those who enjoy the spicy things in life, this is a HOT one! Uncle Charlie has added some Saskatoon berries to this sauce to bring in some sweetness. "A blend of peppers that could kick start your horse."
 Too Damn Hot:
Yippee Ki Yay – For the hot sauce enthusiasts and the thrill seekers, this hot sauce does not mess around. It brings the heat with ingredients that include: scotch bonnet peppers, habanero peppers, and scorpion peppers.
Uncle Charlie's Sauce Company
Uncle Charlie's Sauce Company is a local business in Saskatoon that makes hot sauces, marinades, BBQ sauces, and rubs. Charlie King is the creator and he is dedicated to providing quality products. He started off making salsas and sauces for his family with fresh ingredients gathered from his garden. His family suggested that he should start a small business. To this day, that small business keeps growing and providing delicious, locally made products.