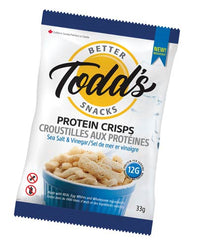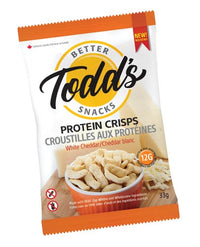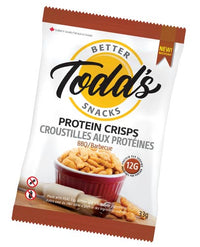 Todd's Protein Crisps (33 g)
DESCRIPTION
Todd's Protein Crisps are full of GOODNESS.  They're as uncompromising on the inside as Todd was in making them.  Todd's are made with real egg whites, prairie lentils and lots of other wholesome goodness.
They come in the following flavours:
BBQ

- Sweet, smoky summertime, with a side of afternoon ball game.

White Cheddar

- Strong, sharp and creamy.  MOZZA delicious. Very GOUDA.

Sea Salt & Vinegar

- Tangy, salty, truth-or-dare S&V.

Sour Cream & Onion

- Creamy Oniony Greatness.
Todd's have the protein of more than 2 egg whites per serving.  They're gluten and peanut free, keto & paleo friendly & naturally low carb.
Todd's Protein Crisps
Todd started working on Todd's Protein Crisps several years ago.  He had a vision: a truly better snack, made with the powerful goodness of egg, that worked for everybody. READ MORE