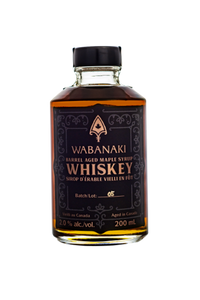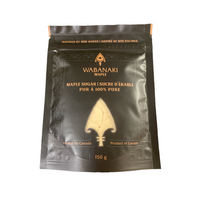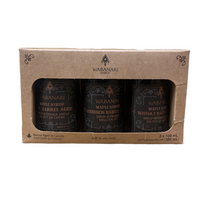 Wabanaki Maple - Barrel Aged Maple Syrup
Wabanaki maple syrup is a sophisticated blend of pure natural flavours.
Barrel Aged Bourbon Maple Syrup:
With a process that takes careful tending and time, our maple is slowly aged in only the finest award winning Kentucky Bourbon barrels for a golden buttery taste that's rich with a storied flavour.
Flavour: Vanilla, Caramel, Butter, Oak, Sweet Maple
Aroma: Marshmallow
Pairs With: Specialty Coffees, Pork, Salmon, Scallops
Barrel Aged Whiskey Maple Syrup:
Enriched with the smoky flavours of wood and rye whiskey, this maple syrup takes sweetness to new heights with notes of caramel and vanilla.
Our maple soaks in a rustic smoky character that turns to creamy sweetness in your mouth.
A superb ingredient to glaze and marinade salmon, compliment a banana split or liven up breakfast pancakes.  
Flavour: Rye, Light Oak, Wood Smoke
Aroma: Toffee, Butterscotch
Pairs With: Ice Cream Banana Split, Bacon, Cornbread
Barrel Aged Oak Maple Syrup:
A roasted thick flavour with honeyed overtones, this maple is painstakingly refined and aged to perfection, producing a syrup made unique with the time-honoured taste of lightly charred oak. 

Barrel Aged Pure Traditional Maple Syrup:
A sophisticated blend of pure natural traditional flavours.
Mini Bundle Set: package includes three (3) bottles (100ml) each of our signature brand barrel-aged maple syrup. Our flavours include our Bourbon, Whiskey and Toasted Oak. 
Wabanaki Maple Products